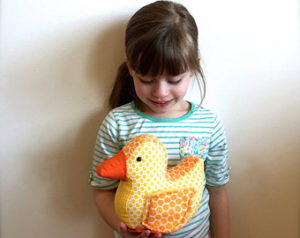 Today I am feeling vulnerable. I'm probably about four years old and in need of a hug. Tearful. Feeling sensitive. Wondering whether I should even be writing this. Far better to hide under a duvet with a cuddly duck. Or at least wait until I feel like a competent adult again.
What has triggered this? Sharing the deepest purpose behind the work I do on my About Me page. And then being quizzed about it by someone who cares about me very much but was concerned that it may not resonate with my potential clients.
It took a leap of faith for me to share it in the first place so this was tough. It's easier to hide, to be professional. I didn't want it to be questioned about it. It struck at the core of what motivates me on an emotional level.
I didn't want to think about target audiences or ideal customers. None of that scary marketing stuff. And please don't mention email sequences or lead magnets… I just can't take it in…
It's hard, isn't it? We want to be seen for who we truly are. We want our tender hearts to be open. But why does it feel so bloody difficult, so exposing?
As creatives, we're more likely to be sensitive souls. And the harsh language of marketing is sometimes jarring and difficult to comprehend so we block it out.
There's a horrible irony about all of this, in that I'm currently co-facilitating an online programme called Storytelling for Self-Promotion, in which I am encouraging fellow creatives to show vulnerability in the stories they are sharing – and to share stories about their purpose.
And here I am, four years old with a cuddly duck in my arms, feeling something of what they might be going through – the resistance, the tenderness, the urge to stay in hiding, not feeling safe, leaving myself open to harm and judgment – all the negative baggage that the word vulnerability carries.
So the first thing I did was to remind myself of the words of vulnerability researcher Brene Brown:
Our willingness to own and engage with our vulnerability determines the depth of our courage and the clarity of our purpose.
Boom. There you go. Only by diving into that pool of discomfort we call vulnerability can we find the courage to express our purpose.
But that pool can be icy cold or red hot. It can be full of tears, or rage, or fear – or all three.
On the other side is what we really want – to be seen and accepted for the unique human beings we are. And to connect with other unique human beings who value what we offer.
I am determined to find the courage to express my purpose. But I will also open my ears to the marketing gods who are telling me to think about my audience and the problem I'm solving for them.
Today I am feeling vulnerable. But I'm staying with it because I know there is treasure in that pool. Can anyone lend me a rubber ring?