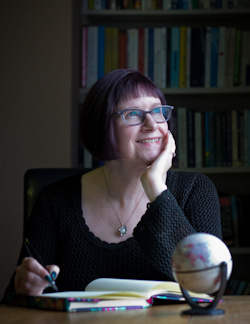 My father left me when I was 16. He was still there, looking like my dad but not able to be a dad any more. At just 46, he suffered a catastrophic stroke that left him partly paralysed.
Everything I've become since then has been a consequence of that one event. I had to find a new way of being in the world. I became independent, resilient, self-starting, a bit of a rebel – because I couldn't depend on my parents any more.
When something shakes you to your foundations at that age I believe it gives you 'early onset wisdom'. You have to deal with life on a deeper level. You question what it all means and why things happen. You have to try to make sense of something that doesn't make any sense. So that's what I help my clients do now: to find meaning and purpose in their major life experiences.
I do what I do because I suffered in silence for years. I didn't even know I had permission to talk about how I felt. And I didn't always know how I felt. I carried a lot of unresolved grief for a long time – without really knowing it was grief. After all, nobody died…
If I can help my clients find their voice, tell their story and bring clarity of purpose and fresh meaning to their work, lives and businesses, then I will know I've made a difference.
The basics
I have been a professional storyteller for more than 35 years – first as a music journalist and pop magazine editor, and subsequently in a variety of roles on national newspapers.
Now I'm a presence-based coach who helps individuals and business owners dig for the personal stories that will change their lives and change the world.
I'm also a public speaking coach and trainer. I co-host a personal storytelling event in London called The Story Party, and am the author of the ebook Dig for the Story in Your Soul.
I live in Buckinghamshire, a leafy county north-west of London. Apart from storytelling around the fire, I love walking in my local woods and the Black Mountains of Wales, singing, dancing, rubber ducks, cuddly ducks and pesto (but not with duck).
One of my core values is connection. I believe that sharing our story is one of the most profound and instinctive ways in which we can stay close to each other in an age when we are more connected than ever on the surface but crave a deeper, more heartfelt connection that allows us to celebrate our common humanity.
More about my story
Here's a video of me talking about my time as a music journalist in Covent Garden in the 1980s, when I was a staff writer on Sounds. The experience of digging beneath the public image of rock and pop stars has influenced how I help my clients today.
I tell more of my story here – from nervous secretary to music journalist to story archaeologist.
Dig for the Story in Your Soul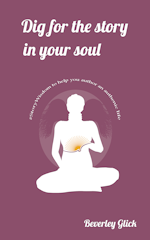 I published this little book in 2015, subtitled 'Story Wisdom to help you author an authentic life'. It's a series of 52 reflections and 156 questions inviting you to dig deep into your life experiences and become the author of your authentic story. Available on Amazon.
Best-selling author Nick Williams has written the foreword and says: "This book is a gem, in which Beverley has distilled many of her most powerful thoughts about story and the power of story. It is designed to help you see yourself more powerfully. She has taken a stand for powerful storytelling in the world."
Leda Sammarco interviewed me for the insightful podcast series Inspirational Authors Revealed. Listen in and find out more about the power of personal storytelling and the ideas behind my book.
The Story Party – live storytelling in London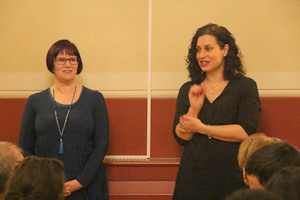 The Story Party is a regular storytelling evening in central London, founded by myself and Mary Ann Mhina in 2013. We set a theme and invite storytellers to share inspiring, entertaining and thought-provoking tales from their own Book of Life with a receptive audience.
As speakers, writers and advocates of the power of story, we set up The Story Party to create a safe space for sharing personal stories that can deepen our connection to each other: stories that are personal but also universal; stories that speak volumes about what it means to be human.
Since the first event in September 2013 I've worked with several brilliant co-hosts – the latest being Jojo Thomas (pictured with me above). And now the model is spreading with Story Parties in Portsmouth, Stroud, Leeds and even Bali.
For dates and booking details, go to www.thestoryparty.co.uk.
To read more about why I decided to co-found The Story Party, read this.