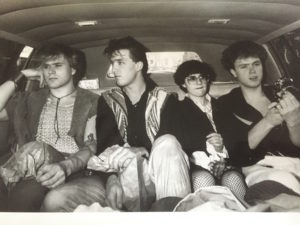 When I was a trainee music journalist in the early 80s, I was tasked with interviewing new bands and artists. Some of them – like Spandau Ballet and Duran Duran – were media-savvy before anyone talked about being media-savvy. They understood the importance of crafting an image.
But many of them were either stuck in the belief that their music should speak for itself, or they hated having to do interviews or promote themselves in the music press.
That made my job difficult. These artists were often sullen and defensive or didn't have a story to tell about themselves and would speak in bland generalities. So it was up to me to find something to hook the readers in – which was sometimes hard. I used to spend hours trawling through my interview tapes, hoping for an interesting quote or juicy aside, but rarely finding one.
In the days before the internet and social media, if anything it was more important for these artists to be able to tell a compelling story. But many of them failed to do so – and this often affected the coverage they would get.
I understand that few creatives get into the creative industries because they want to spend hours on social media or putting together newsletters on Mailchimp. Musicians want to make music, writers want to write, artists want to draw or paint, photographers want to take pictures.
But as American marketing guru Ryan Holiday says, "Considering how few people get to produce art for a living, and how much drudgery and hawking is involved in almost every other industry and profession, this seems like a rather privileged complaint."
Who is going to be better at selling your artwork, your album, your book, your services or products than you? Who else is more invested in the success of your projects?
I hate to break it to you, but being an artist and a salesperson is the same job.
But don't dismay! I'm also here to tell you that self-promotion can be a joy – that you can put just as much creativity into it as the work you produce.
Let's go back to Spandau Ballet for a moment. They invented their own mythology as the sharp young London upstarts who dressed in extravagant clothes and never played gigs. They created unique one-off events and invited the cream of London's art and fashion colleges – the Blitz Kids.
They created a mystique and actively avoided the music press – thereby creating a demand for interviews that they almost always turned down.
In fact, they appeared in a TV documentary before they appeared in the pages of a music paper. And when they did do an interview, it was with a hand-picked blank canvas – i.e. me – who was willing to buy into the mythology they were creating.
When that interview was published in Sounds in September 1980, it was under the headline 'The New Romantics' – not a name they used for themselves, but one that served them well in the years to come.
So how can you be the Spandau Ballet of your industry rather than the reluctant artists I interviewed who disappeared into obscurity?
Well, the first step would be to take the Trailblazing Archetypes quiz I created with my collaborator Nicky Moran, which will help you identify the two energies you lead with.
The next step would be to join us for the Trailblazing Creatives online programme, which kicks off again in March (dates tbc).
Marketing is part of your job – but it doesn't have to be a chore. You really can learn to love it. Just like Spandau Ballet did.
Join our Facebook group Trailblazer Tribe here.
More information about the Trailblazing Creatives online programme here.