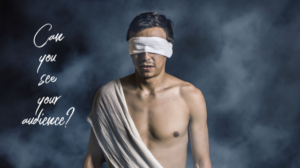 Ten years ago, when I was a footloose and fancy-free 50-year-old, I started dating younger men. One day I received a flattering message from a man who looked like a male model. He was gorgeous. I couldn't believe he was interested in me. We started messaging each other and eventually the conversation turned to meeting up. I was beyond excited. But every time I tried to pin him down, he would come up with an excuse about why he couldn't meet. I persisted, and in the end he confessed that the profile photo he was using wasn't him. He was just an ordinary guy in his late 40s masquerading as a 20-something bronzed Adonis. My male model dream burst with a pathetic pop.
I'm telling this sorry little tale to illustrate the importance of clarity about your audience. Not knowing who they are is like going on a blind date. In my case, it was a double blind date. I had no idea who he was or what he really looked like!
Paint a picture of your ideal client or fan
As a creative, you are likely to be unorthodox. You like to find new ways of doing things – and that's great. But we all make assumptions about our audience. If you haven't clearly identified your ideal client, audience member or fan then you might as well be shouting into a void.
How can you fall in love with your audience if you don't know who they are?
Here's an exercise for you. Imagine you are creating an imaginary person who represents your ideal audience member (preferably not a bronzed male model).
Don't make it a caricature of yourself or someone you know – make it a composite. It's important to be specific and create one individual by answering the following questions. I've used my own avatar as an example (i.e. the ideal customer for my story coaching service).
What's their name?
Sophie.
What's their age?
Between 35 and 55.

What are they wearing?


Well co-ordinated, colourful separates with a hint of the eccentric.

What kind of person are they?


Self-aware, reflective, focused on personal development.

What's their life like?


Having left a full-time job, she is now running her own coaching business.

What do they passionately care about?


Freedom, self-development, self-expression, equality, being of service.

What do they read, watch or listen to?


The Guardian and other Left-leaning news outlets, current affairs and personal development podcasts, Netflix, BBC documentaries and dramas.

What are their wants and needs?


She wants to understand more about the themes and patterns of her life in order to fulfil her potential. She needs a safe and non-judgmental space in which to explore her life story. She wants to share some of her stories to promote her business.
What tribes or communities do they belong to? Where do they hang out?
Facebook (especially groups), Twitter (sometimes), Instagram, LinkedIn, coaching or storytelling groups, maybe a local choir, dance class or yoga centre.

Why do they care about what you do?


Because I can offer services that support her inner (personal) and outer (business) development.
How can you reach and connect with them?
On social media, connecting in meet-up communities, by sharing valuable free content.
Is there something about you that will resonate with them?
I've been a journalist for many years and have written a memoir so I know how to find and tell good stories – especially personal ones. I'm in the same boat – having quit a long-term career to start my own business.
The purpose of this exercise is to encourage you to be specific about an individual you want to serve and be in relationship with, and to paint a picture of their world in their own language. Once you have created your audience avatar, you can have a conversation with them. It might seem a bit weird, but it really works.
Ask a friend or colleague to role-play with you. They're going to interview you and you're going answer the questions in the first person as the avatar – embodying the role of your ideal audience member.
Do this for about 10 minutes and then write down any insights you have gained about your audience by stepping into their shoes. It's an exercise in empathy.
If you can understand where your ideal audience member is coming from you can then start building a fan base of people who will not hesitate to share your work and ideas. If you don't know what they're interested in you're shooting in the dark.
Self-promotion is not about flying under the radar any more – it's about building a relationship with your audience and involving them in your process.
If you know who they are and can build rapport with them you become part of their lives and that can be beautiful. You can have a conversation with them and get feedback along the way.
Whichever type of creative you are – a service provider, product seller or originator (read Nicky's blog for more about that) – you can serve up exactly what they want and need.
And the more clarity you have about your audience, the more likely it is that you can tell a story that they're going to identify as their own.
PS: I didn't tell the whole story of my internet dating fraud. After the 'big reveal', I persuaded him to meet up. He was a nice man, if a little misguided, and I told him he should quit hiding, have the courage to be himself and believe that was enough. I didn't see him again – he wasn't my target audience, after all – but I hope he eventually found someone who loved him for who he was. And that's what we want for you too – on a bigger scale!
My Trailblazing Creatives partner Nicky and I have been exploring the topic of clarity in self-promotion for a few weeks. Here are the blog links:
Clarity about what you want to be known for.
Clarity about describing what you do.
Clarity about describing why you do it.