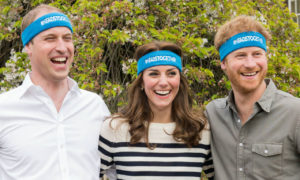 Back in the dark days of summer 2012, when I had just separated from my husband, I signed up for a public speaking course called Speak Like a TED Talker. The aim was to find my TED-style "idea worth spreading".
As I cast around for ways to articulate my message, it came down to this: I wanted to put an end to silent suffering.
Looking back, it was a cry for help. I hadn't told anyone outside my inner circle that my marriage had hit the rocks. I wanted to be, and appear, "normal" even when I was feeling wounded inside.
Here is the outline of the talk I put together that July:
---
(I come on stage with a bandage around my hand or wrist or my arm in a sling)
On my way here today at least four kind souls either opened doors for me, gave up their seats or asked me what I'd done to my arm and if I needed any help. I find the compassion of complete strangers so heartwarming, don't you?
In our culture we're set up for a rapid response to physical problems. If you have an accident, you will soon be surrounded by noise, commotion and concern and pain relief will be administered almost immediately.
(I begin to unravel the bandage or take off the sling to show I'm physically OK)
But what about the sort of pain that you can't see? The sort of pain that you hide, often for years, even from those closest to you? I haven't really hurt my arm but how would you know if I'm hurting inside?
I believe we live in a world where it's not always safe to show that pain. Every day I travel on public transport and I see brave faces, I see quiet desperation.
I want you to enter that hidden place with me. That place deep inside where you can hear a pin drop. A place where no one can hear you scream. A place where you suffer in silence…
[Tell story of Dad's stroke on April Fool's Day, 1973, when I was 16 and he was 46. Explain how his personality changed, how he wasn't really a dad any more because I had to help look after him. No one asked me how I felt and I didn't tell them. I locked away the feelings of abandonment, betrayal, rage, despair and desperate sadness. And I did it so effectively that everyone thought I was OK. I suffered in silence.
[Then tell the story of how I became a rock journalist and entered a loud world to drown out the silent pain. How I created a character to live this life – which became an act. I thought there was something wrong with the real me. I partied hard but was deeply unhappy…]
One morning in 1989, I woke up and thought no, enough, I can't do this any more. I was diagnosed with nervous exhaustion and given antidepressants to keep me quiet. They numbed the pain but fogged my brain. I stopped taking them.
After that I hid away, doing managerial jobs that took me away from my creativity. I was extremely capable – but being practical and useful became the bedrock of my self-esteem.
Years later, when I hit 50, I finally allowed myself to experience joy. I met my future husband and was blissfully happy – but even then a part of me was suffering. The lost teenager was still locked inside.
Marriage provided a safe springboard from which to dive into the pain. That's when I discovered what had become trapped inside for all those years – the grief and rage had become packed in ice.
I discovered that if you turn towards the pain with compassion – to explore its texture, its contours and feel its energy, you find not more pain but more of yourself – your creativity, your humanity.
I learnt that pain is nothing to be afraid of and that suffering is a story we tell ourselves about the pain that keeps us from feeling it.
I'd like to live in a world where it is not only safe for adults to express and release emotional pain but where we teach our children that they never have to suffer in silence. Teach them how to give their pain a voice and let it be as loud as they want. I'd like there to be a rapid response to this kind of pain – the pain you can't see.
So what are you hiding inside? How are you suffering in silence? And how can you help another human being give voice to their pain?
If we each did that for just one other person, perhaps there would be no more quiet desperation. In its place, there might be compassionate connection and perhaps even deafening joy. But no more suffering in silence.
---
It's interesting to note how many times the word "pain" appears, and how I mention the joy of being married but not the agony of separation. So even while I was pleading for an end to suffering in silence, I was still suffering in silence myself.
As I revisit this talk five years later, it looks like a pretty decent manifesto for encouraging mental and emotional health – one that Princes William and Harry might agree with.
I have been so touched and inspired by their openness and honesty in speaking out about the impact of their mother's death and their support of the mental health charity Heads Together.
What they are doing is exactly what I was advocating. Having the courage to start a conversation about how you're feeling, telling your story and having it witnessed – this is what can put an end to silent suffering.
Sometimes I wonder whether I should have spoken out back then about how I was feeling about the breakdown of my marriage, but then I think no, the story wasn't ready to be told then. That would come later.
William and Harry have demonstrated the value of sharing your story from a scar, not a wound.
They will always live with the consequences of their mother's premature death 20 years ago, but now they can talk about it in a way that will serve others – and in doing so will help them heal too.
I may not have delivered that talk but attending that workshop was the first step on a healing path that would lead me to doing the work I love. Now I am one of the lead trainers on Ginger's Speak Like a TED Talker, helping others to find and express their "idea worth spreading".
Now there's no need for me to suffer in silence. Now I can tell my story from my scars, not my wounds.
If you would like to explore an untold story that's trapping you in silent suffering, email info@beverleyglick.com to arrange a free 30-minute Story Insight Breakthrough Session.