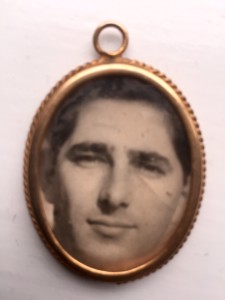 I have spent the past couple of weeks helping my mother settle in to her new flat in Amersham after 20 years in Mumbles, Swansea. But it's not the first time she has moved from South Wales to the South East. In 1951, Dad got a job in London.
Among the mounds of superfluous paperwork that Mum brought with her from her old house, I have found a few gems – including letters my dad sent to my grandparents shortly after he and Mum moved to East Dulwich.
Rather like the letters from my great-grandfather to his daughters that I discovered last year, I'd never seen these letters before. There's nothing particularly earth-shattering in them (Mum remembers that he struggled to think of anything to write), but it is particularly poignant for me to see them now. Not only is today the 15th anniversary of Dad's passing, but I often forget what his writing looked like before he had a stroke at 46 and could no longer use his right hand.
There are flashes of his trademark humour all the way through, and his excitement at the wonders London had to offer is tangible. "I expect you're moaning and groaning away about the sameness of Mumbles. Up here, we are always discovering something new!"
He was particularly impressed by the food. "If you could see the grub around here! Offal in the windows, tongues on sale to anyone, and the meat is prepared nicely. We had a lovely piece this week! Topside of beef!"And later: "Food news. The week before last we had liver and kidneys, as much as we could eat! The butchers' shops always have offal. We have Kennedys – they sell smashing sausages!"
Let's not forget that rationing didn't end until 1954, so the sight of some prime beef was a cause for celebration. Dad never lost his love of grub, often regaling us in later life with stories about meals he'd enjoyed years earlier.
He often sent home match reports from football games he'd attended, while he always seemed to be taking Mum to the cinema or to see shows. "On Saturday we went to the Empire Leicester Square and saw An American in Paris with Gene Kelly, which was quite the best musical we have seen." How impossibly glamorous the capital must have seemed in comparison to provincial Mumbles.
I often wonder what my life would have been like had my parents not moved to London. I'm so grateful that they did – because it enabled me to share in that excitement of always discovering something new.
Dad signs off one letter: "Don't moan, Mother – be happy and gay like us!" Which sums up my parents – despite the challenges to come, they never lost their optimism.
I'm so grateful to have these fragments of my dad's life and to know how "happy and gay" he was when he was 25, not long married, in a place where it was all happening, with a promising new career ahead of him and everything to play for.
Even though tragedy would strike at 46, when a stroke left him partly paralysed and dependent on my mum, he never lost his sense of wonder or cheerfulness. And certainly not his love of grub.
I'm sharing this with you to demonstrate that stories from everyday life are precious. They might seem like the meat-and-two-veg of the mundane to you now, but in a few years' time they will become social history. Do you have letters written by your parents or grandparents? If not, can you find out where they might be?
Don't let these stories crumble to dust. Preserve them, learn from them, and pass on the wisdom.
RIP William Woolf Glick, 1926-2000. Known as Bill to those who loved him. Known to me as Daddy.