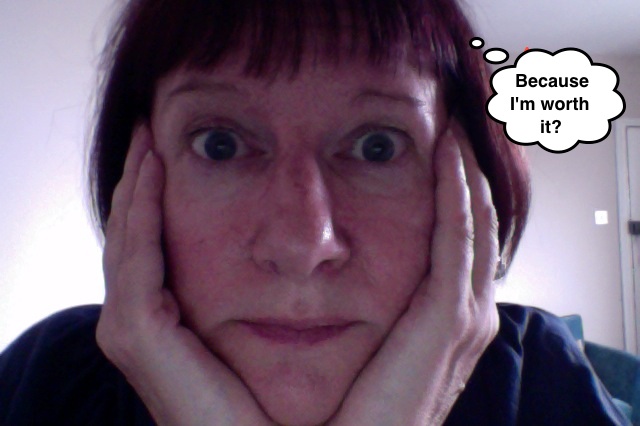 As I walked along the station platform I spotted a young woman dressed in the sort of short shorts I could never have worn, even at her age.
She was all long, coltish legs and porcelain skin, balancing on the edge of a cold metal seat while applying black eyeliner.
When I boarded my train, there was another woman, barely into her 20s I would say, who was busy smothering foundation all over her face and neck.
Both were pretty, fresh-faced, dewy with youth and had lovely skin. I cannot understand why they felt the need to apply any kind of mask.
What story have they bought into about needing cosmetic help to modify their appearance?
Twas ever thus, I suppose. I forget that I was once one of those girls. The idea of leaving the house without some kind of make-up on my face horrified me.
For me the essential modification was lipstick – to plump up and colour lips that I had deemed thin and mean-looking.
For my friends it was mascara, kohl or rouge – that one piece of masking that we thought made us acceptable to ourselves, each other and the outside world.
It's so sad. I look back at photographs of myself when I was younger and see that I was beautiful and did not need the dark eyeshadow that I plastered on up to the brow, or the plum lipstick. But I didn't believe it then. I thought I wasn't enough au naturel.
Now I want to tell these younger women that beauty comes from within – but they probably won't believe me either.
We all bought into one of the great advertising stories – one based on lack. The story goes that women need to be improved and fixed in order to be attractive to a man. The entire beauty industry is based on that story – that lie.
OK, I'll admit that I still wear a little make-up – gloss to stop my lips from drying and powdered foundation to "even out my skin tone". I'm afraid that all those years of reading beauty articles in women's magazines have planted deep roots.
I wish I could go back and tell those two girls that not a single man with whom I've had a long-term relationship thought I needed to wear make-up.
It's a myth that men find cosmetically enhanced women more attractive.
So the moral of the story is: be careful which cultural myths and advertising stories you're buying into. They lurk around every corner – usually on a very large billboard.
Don't be seduced by stories that sell you a lack of self-worth.