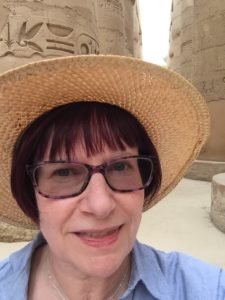 I blame Miss Hughes. She was my history teacher in the first form at Bromley Technical High School for Girls – a tiny, silver-haired lady nearing retirement but still full of fervour about her subject.
She taught us about the ancient civilisations – the Assyrians, the Babylonians, and then the Egyptians. I was captivated by her stories about the pyramids and how they were built, the mysteries of the hieroglyphs and the complex interweaving of gods and goddesses.
Years later I realised why I was captivated – she was a brilliant storyteller. Just like the Ancient Egyptians.
It took me nearly 50 years but last week I finally made it to Luxor – the ancient city of Thebes – to see the great temples and tombs of the pharaohs.
I visited Karnak, the largest temple complex on the planet, with its extraordinary Hypostyle Hall; entered sacred tombs in the Valley of the Kings; celebrated majesty at the epic Temple of Queen Hatshepsut; and posed next to statues of the falcon-headed god Horus at the temple dedicated to his worship.
The Ancient Egyptians were big on death – if you were a king, queen or nobleman, most of your life was spent preparing for your death, building your tomb and filling it with offerings to the gods and everything you'd need for a good afterlife.
And the stories of your life – and your journey to the afterlife – were told on the walls of your tomb or your temple in the form of hieroglyphic carvings.
The Ancient Egyptians were big on legacy – especially a lasting legacy. They wanted their stories to be visible, their temples and tombs to be standing thousands of years into the future. And they certainly achieved that.
Here we are, in the 21st century, still intrigued by their stories.
One of the most fascinating places I visited was off the usual tourist track – Medinet Habu, the mortuary temple of Ramses III. This has some of the best-preserved carvings anywhere in Egypt – some with the original colour intact.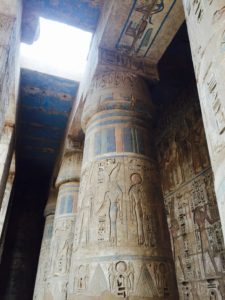 Here, stories of conquest and worship come vividly to life – you can literally touch them, feel the grooves and the contours. You can only begin to imagine how awe-inspiring these must have been when they were first created – especially at a time when most stories were told, not preserved in rock.
Now storytelling is not just the preserve of kings and gods. We can all tell our story and leave a legacy.
One of my favourite storytelling quotes is by Dorothy Allison:
My story is myself: and I am my story. This is all you will know of me; it is all I will know of you. This is all that will survive of us: the stories of who we are.
I think the pharaohs understood this very well. Whatever material goods we leave behind – solid-gold death masks excluded – story is what makes them valuable. Without story, they quickly lose significance.
Our life story is much more valuable than the objects we have accumulated. And it's worth passing on as an inheritance, even if you don't have children. And there are so many ways to preserve your story these days – you don't have to carve it in a sandstone pillar.
Perhaps it's not for us to judge whether or not our story is memorable, but we should at least give the next generation the opportunity to remember us. Legacy is not just for pharaohs. You are worth remembering. Please share your story.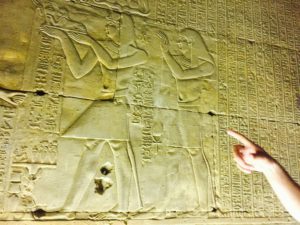 If you'd like to find out more about digging into your life story, then email me at info@beverleyglick.com to arrange a free 30-minute Story Insight Breakthrough Session.