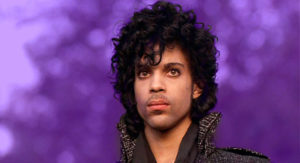 It seems that these days the only time I feel inspired to write a blog is when a musical hero dies. I paid a personal tribute to Bowie earlier this year, but now I have lost Prince…
In many ways he impacted me more directly than Bowie. This is what I wrote about him in my (still unpublished) memoir Hit Girl: My Bizarre Double Life in the Pop World of the Eighties:
"In 1981, another unique performer awaited his moment of glory. He'd slipped into England from Minneapolis, preparing to play his first ever gig in the UK, and could be glimpsed sitting in the corner of London's Embassy Club, doe eyes staring bemusedly at the decadent goings-on.
Prince Rogers Nelson was something of a new soul prodigy and the buzz about him had been growing (Steve Strange always knew the right people to invite to his parties). Like me, he was in his early 20s, but had already released three albums. He was a one-man tour de force – playing all the instruments, singing and producing everything himself.
My boyfriend Tony Mitchell – also a Sounds journalist – had been playing his album Dirty Mind for a few weeks, and I'd never heard such palpably erotic bump-and-grind electro-funk. His lyrics were filthy and sexually ambiguous and hinted at a certain kinkiness – which, of course, appealed to us no end.
Tony had interviewed Prince in Amsterdam so thought it would be a good idea for us to go up and say hello. Dressed only in black posing briefs and legwarmers under a long raincoat, Prince had a surprisingly limp handshake and, far from engaging us in conversation, simply gazed off into the middle distance. We were later to learn that this was entirely in character but at the time it was a surprise, given his somewhat relaxed attire.
When Prince played at the Lyceum in London a couple of weeks later, we became total converts. Disciples! We knew we were in the presence of genius – and so did the rest of the elite crowd.
In my Sounds review of the gig, I was happy to trumpet my preference for the lusty Prince over the affected Kid Creole, darling of the Spandau Ballet crowd.
"Normally subdued persons of both sex employed emergency tactics in order to glimpse the animal sensualist in action," I wrote, "encouraging him with squeals of delight when he stuck his hand down his posing briefs, deadpanning 'That good enough for you?' as if he'd made love to the whole damn place."
When he'd finished his last encore (well, climax, frankly), we were exhausted, breathless – in a suitably sweaty, post-coital way. Not wanting to leave the scene of one of the best gigs ever, Tony and I lingered stage-front along with Bob Geldof and Paula Yates – all of us grinning inanely with pleasure. (I noticed that Paula was wearing a rare promotional Prince "dirty mac", complete with studs, which made me even more envious of her than usual.)

Tony insisted on dragging me backstage. Despite the fact that he'd interviewed Prince and said hello to him again at the Embassy, the star of the show observed us silently as if we were aliens, sweat still dripping off his small but perfectly formed body. Tony jabbered at his manager for a few minutes before I bolted for the door, dragging my boyfriend with me.
After that embarrassing incident, I made a mental note never to gatecrash a backstage area again – unless I had a pass in my hand. Strange behaviour notwithstanding, I firmly believed this tiny, eccentric man with the huge ego and even bigger talent was sex on two legs."
My love affair with Prince would endure through the Eighties and beyond, outlasting my relationship with Tony and all of my other boyfriends. I remember attending the London premiere of Purple Rain, barely able to contain my excitement because – oh yes! – I had been in on the brilliance of Prince from the start, when such things mattered. It was so rare for a musician of such high calibre to appear in a semi-autobiographical movie and pull it off.
The album of the same name became his most popular, of course, but for me it was the soundtrack to a time of emotional spills and thrills. It was Let's Go Crazy that I listened to on my Sony Walkman as I strode down Fifth Avenue in New York, preparing to interview self-regarding rock star Billy Idol.
I played I Would Die 4 U on repeat as I found myself in the depths of despair over a boy in a band I desperately wanted but couldn't have.
I'd often glimpse The Purple One in the Star Bar at the Camden Palace, sitting quietly with his entourage. Even when I was a gossip columnist, I'd never be brave enough to accost him.
Later, in 1988, he performed a series of concerts at Wembley Arena on the Lovesexy World Tour. In those days no one did gigs 'in the round'. But he did and it was AWESOME – an incredible multi-tiered stage set with a basketball hoop, a fountain, trellis fences and a full-scale replica of a Ford Thunderbird.
His post-Revolution band featured the amazing Sheila E and incredible dancer Cat, who had become good friends with my ex, Tony.
I had ringside seats with my partner-in-crime, Gill Smith, and by the end of that show we were were moist, to put it mildly. It remains, in my book, the Best Gig Ever.
And what made it even more remarkable was that he did a two-hour set at the aftershow party at the Camden Palace that was just as transcendent – if not more so – than the main event itself.
There was simply no other musician who put so much into playing live and giving an audience what they wanted.
Which was always MORE.
My next encounter with the pocket rocket was a little more vexatious. After his contretemps with Warner Bros, he reinvented himself as the now-infamous symbol. At the time I was working for the NME and there was much hilarity when we were sent a special font version of the symbol, which we were expected to reproduce in the paper every time Prince was mentioned. And lo, he became The Artist Formerly Known As…
On assignment for the NME, after the success of Diamonds & Pearls and just before the release of what's now known as the Love Symbol album, I was dispatched to Germany to join The New Power Generation on tour. As ever, Prince refused to do any interviews but I hung out backstage anyway – this time with the relevant pass.
The members of his band – all pleasant enough people – knew perfectly well I wasn't that interested in them and only wanted to ask them about their boss.
Said boss could be seen in brief glimpses, walking past open doors, smiling to himself, mischievously.
I'll never forget that smile.
I quit music journalism in 1993 to get a proper job, so that was the end of my affair with Prince. It had lasted longer than most of my real-life relationships.
And now he has gone. As Prince might have uttered, SAY WHAT? For God's sake, he's younger than me – that's not right or fair.
I hope he really is an alien, smiling mischievously at us all as we illuminate monuments in purple in his honour.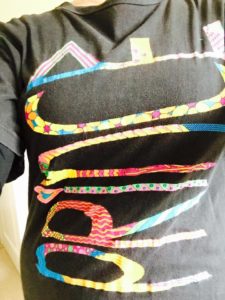 All I can do is wear my Lovesexy 88 tour T-shirt – one of the few I have kept from the Eighties – and remember his moments of glory – moments I was lucky enough to witness.
He didn't speak very often – certainly not in the Eighties – but when he did, he made it count.
"A strong spirit transcends rules," is a fitting epitaph for a small man with an enormous talent.
Rest in Purple, Prince. Thank you for the soundtrack to my life.