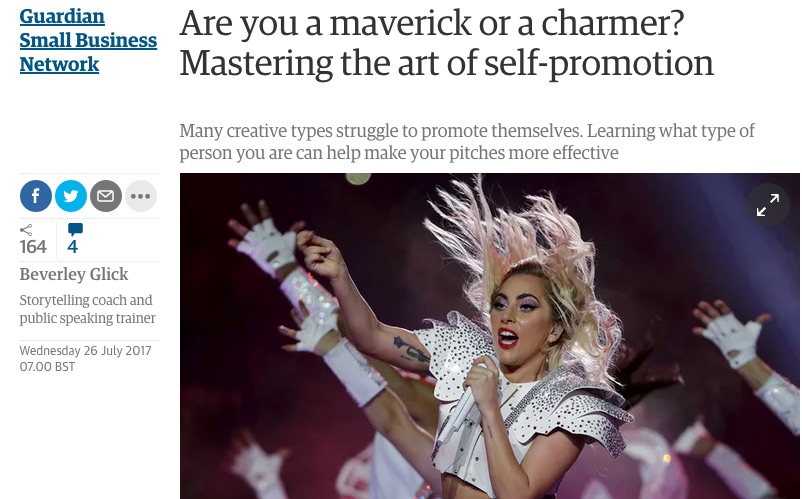 As I've written here before, I'm a strange beast: a journalist who doesn't find self-promotion easy. But I realise I have to get over myself, not only because I need to market my services but also because I've started teaching creatives how to tell captivating stories that will hook the attention of the media. So it's unfair of me to ask them to do something I don't want to do myself.
At least I wasn't alone this time – I had my Trailblazing Creatives project partner Nicky Moran to help me. We sat down and put together a wish list of publications we'd most like to be featured in. The frontrunner by a country mile was The Guardian.
Why? Because its readers are definitely our target market – politically Left-leaning, well-educated, likely to work in the creative industries. Great, we thought, wouldn't everyone love to be featured in The Guardian… but how?
Where do we begin?
We knew it would be tricky to engage the arts section or the features desk. Then I remembered there was a 'site within a site' on the main Guardian website called the Guardian Small Business Network, which also has a membership option.
So we both joined up and had a good look at the content (you don't have to join to read the articles). As a result of signing up, we received an email that supplied a generic email address (smallbusinessnetwork@theguardian.com) and asked for contributions from members. I then started putting together a pitch.
Designing the pitch
I knew they wouldn't print anything that was a straightforward promotion of our workshop – it had to be focused on our ideas and expertise. This is what I sent, in an email that simply had 'Contributing to the SBN' in the subject line.
Hi there
I recently signed up to the Small Business Network – fantastic resource, thank you – and wanted to express an interest in contributing.
I've been a print journalist for many years but now run my own business as a storytelling coach and public speaking trainer.
Like many creative people, I don't find self-promotion easy – especially as I spent years observing rather than being observed.
Along with a friend – a coach for creatives and leadership trainer who has faced similar issues in building her business – I've been working on a tool that aims to make self-promotion more playful and impactful for creatives.
We've come up with seven PR archetypes and a questionnaire to help identify the energy they naturally lead with.
You can find out more here: https://www.nickyjmoran.com/archetype-signup/
If you think it would add value to your members, we'd love to share more about the archetypes and invite people to join our experiment.
Best regards
Beverley Glick
I thought it was important to point out that we were members of the network and had spent some time exploring it. And obviously I was going to mention my experience as a journalist as that couldn't do any harm.
Then I talked about my 'pain point' – not finding self-promotion easy – before offering a possible solution – our archetypes tool. I also framed it as an experiment that Guardian readers could take part in.
It was with some trepidation that I pressed send, convincing myself I wouldn't hear back.
Result!
I received a reply within a couple of hours from a content co-ordinator thanking me for getting in touch and asking if I'd be interested in writing a blog about embracing self-promotion and explaining our theory of the seven archetypes and how to use the right one for you.
FYI their blogs are around 700 words long (but they will work with you to cut it down if you're not an experienced editor like me) and usually have a personal angle (e.g. how I struggled with self-promotion and how I overcame that using the archetypes).
I started to write the blog after reading the examples that content co-ordinator Emma Sheppard had sent me, making sure I was following their style.
I sent her the first draft, making it clear that I could tweak or use a different angle if necessary.
She came back to me with a few questions (I realised I'd made a few assumptions because I'm so close to the material), which I answered. She also asked me to send a photo of myself (which they didn't use in the end).
A couple of days later she came back to me with a couple of questions from her editor, who thought the blog was really interesting but needed me to clarify a couple of points – not a problem.
She didn't tell me when it would be published, so I just kept checking the website every day. (It's never a good idea to keep pestering editors about when your piece is appearing.)
I had begun to wonder whether or not the blog would be published when Nicky told me that there had been a flurry of quiz sign-ups. Lo and behold – it had finally been posted!
Publication day
Here's the final version that appeared on the Guardian website on Wednesday 26th July (more than a month after I'd submitted the article).
As a result we've had more than 100 people sign up to do the archetypes quiz and several have joined our Facebook group Trailblazer Tribe.
We had a giddy morning tracking the responses and answering messages. It proved just how much impact an article in a national newspaper can have (albeit digital only).
So I bet you're thinking well, it's OK for her, she's a journalist so that's probably why she got her blog accepted. Fair enough, I thought, so I contacted Emma to ask her whether me being a journalist had an impact on her decision to commission the blog. This is what she said:
"It all comes down to the idea really. We get non-journalists to write blogs for us all the time. The beauty with yours of course is that it took less editing!"
And that's good news for anyone who might talk themselves out of contacting a newspaper because they're "not a writer". If you have something interesting to share that's either innovative or surprising and adds value for the readers then I would just go for it. What's the worst that can happen? You might get a no, but you'll always have a chance to ask why – and that's valuable feedback.
However, I'm aware that I've been working in the media for almost 40 years so that gives me a big head start in understanding how to pitch a story idea. That's why I joined forces with Nicky – who is a coach for creatives and former PR – to help ambitious creatives break through their fear of self-promotion and attract fans and media attention for the work they do.
We're running a one-day workshop in north London on September 28 so why not join us to help you raise your profile and have fun promoting yourself so you can get more of the work you love. If I can enjoy self-promotion, so can you!