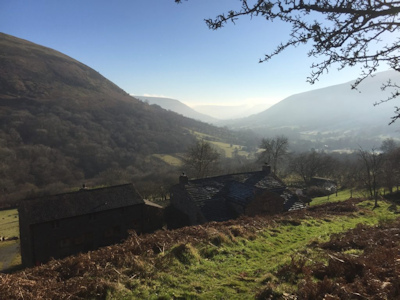 This immersive weekend retreat will help you access your inner story wisdom so you can shape it and share it to find your voice, build your business, connect with your confidence or simply gain a better understanding of yourself and your life story.
It can be hard to figure out your story while in your familiar environment with its many distractions, so we invite you to leave it all behind and focus on what really matters: YOU.
Escape to an inspiring location and be cosseted in the peaceful, beautiful Brecon Beacons. Gain clarity under the gentle guidance of story archaeologist Beverley Glick and life purpose nurturer Sarah Maliphant. We promise you'll leave feeling calmer, re-energised and inspired by the power of your story.
Upcoming dates: January 2018 – tbc
What can I expect?
Over the course of this long weekend you will be able to:
Dig into your story with a small group of like-minded people (maximum six, including facilitators)
Immerse yourself in a safe space with agreed ground rules
Have full permission to explore different aspects of your story
Take advantage of the wisdom of the group to get fresh perspectives
Be supported by two experts who will be on hand to help you all weekend
Participate in a mixture of workshops, 1-2-1s, exercises, walks and periods of reflection
Stay at a remote farmhouse with no mobile phone or internet to distract you
Share stories just like our ancestors did – around a cosy fire
Have plenty of downtime to relax and reconnect with nature
Enjoy home-cooked food (including home-baked cakes) made from fresh local ingredients
What are the tangible benefits?
The workshops, 1-2-1 sessions and reflections will guide you in stages to:
Identify the deeper themes, patterns and threads in your life story
Join the dots of your story, discovering meaning and purpose
Get clear about the story or stories you'd like to share right now – and in which medium
Take away a portfolio of story ideas to use in your marketing
Find out how to structure and deliver an inspiring talk using personal stories
Find out how a journalist would write your story
Create an authentic way for you to differentiate your business from others in your niche
What are the intangible benefits?
But there's more to it than practical outcomes. Here's what Beverley's clients have said about the deeper benefits of digging into their stories:
"I came with the objective of finding a story for my company and I got that, but much more. It gave me a sense of contentment."
"I've connected the dots and now it all makes sense."
"The value for me was in having the opportunity to describe my journey and have someone listen for the pivotal moments while allowing me to keep the story true to myself."
"The value for my business was in creating a brand identity that's connected to my story. It helped me to be more confident in knowing what my business is about."
"It helps you realise you're not as lost as you think you are."
"My biggest takeaway is that I discovered there's a clarity to my objectives in life, even though it hasn't always seemed like it."
"You can't put a price on this process – it has immense value."
Testimonials
Watch this video to hear past participants talking about their experience on the Story Wisdom Weekend Retreat.
About your expert guides
Beverley Glick
Beverley's way of working is highly professional, inspiring, non-judgmental, compassionate and empathetic – but with a very clear objective in mind. A journalist and editor of 35 years' standing, Beverley facilitates workshops, 1-2-1 Story Insight VIP Days and is also a public speaking trainer and coach.
Sarah Maliphant
Sarah combines a background in corporate consultancy, marketing and NLP facilitation with a gentle warmth and soothing nature. She now hosts mountain escape holidays to nurture those that give a lot to others but know they can forget to look after themselves, and lends an empathetic ear out on the hills, cooking in the kitchen or sitting by the fire. Her decisive career change from industry to mountains has been featured in Woman magazine and Career Shifters.
Find out more at more-to.org
The lowdown
Location: Trwyn Tal, Capel-y-ffin, NP7 7NP
How to get there: Train to Abergavenny (approx 2hrs 15m from London Paddington via Newport), then taxi to Capel-y-ffin (approx 40 minutes, price around £35); or approx 3hrs by car from London. 
Dates: Friday June 23 to Monday June 26.
Time: Arrive Friday 5pm, depart Monday 2pm
Price: £800pp* including three nights full board (all dietary requirements catered for), all course materials and tutelage plus a 45-minute post-retreat 1-2-1 follow-up Skype session with Beverley or Sarah.
Premium package: £950pp* for all of the above plus two extra 30-minute Skype sessions with Beverley on how to apply your story themes, or Sarah on how to nurture yourself and your dreams.
*Payment plan available on request. Place secured with non-refundable deposit of £150.
GREAT VALUE: Beverley usually charges £849 for a one-day 1-2-1 story mining session.
To book your place, please email info@beverleyglick.com.